The Conference
From March 22-24, global water actors will gather in New York for the momentous UN 2023 Water Conference at the United Nations Headquarters.
Formally known as the 2023 Conference for the Midterm Comprehensive Review of Implementation of the UN Decade for Action on Water and Sanitation (2018-2028), the conference is expected to produce the Water Action Agenda towards the achievement of the Sustainable Development Goals.
Featured Resource
SIWI - "Your Guide to the UN 2023 Water Conference"
This helpful outline from the Stockholm International Water Institute provides a breakdown of what the Conference is, the themes of the interactive dialogues and what it should accomplish.
Water Action Agenda
The Water Action Agenda is the collection of all water-related voluntary commitments to accelerate progress in the second half of the Water Action Decade 2018-2028 and second half of the 2030 Agenda for Sustainable Development.
The Water Action Agenda encourages Member States and other stakeholders across all sectors, industries, and interests to unify and to make their voluntary commitments to address global water challenges.
Learn more here: Water Action Agenda FAQs
Cap-Net at the UN 2023 Water Conference
Cap-Net will contribute to a variety of conference side events alongside our various water partners. Connect with us:
Dr. Themba Gumbo - Director
Damian Indij - Virtual Campus Coordinator
Yasmina Rais El-Fenni - Programme Officer
---
The full Conference programme, including plenary sessions and side events, can be found here: Programme | Department of Economic and Social Affairs (un.org)
Note: Only registered participants can attend in-person events. Some sessions will be available online.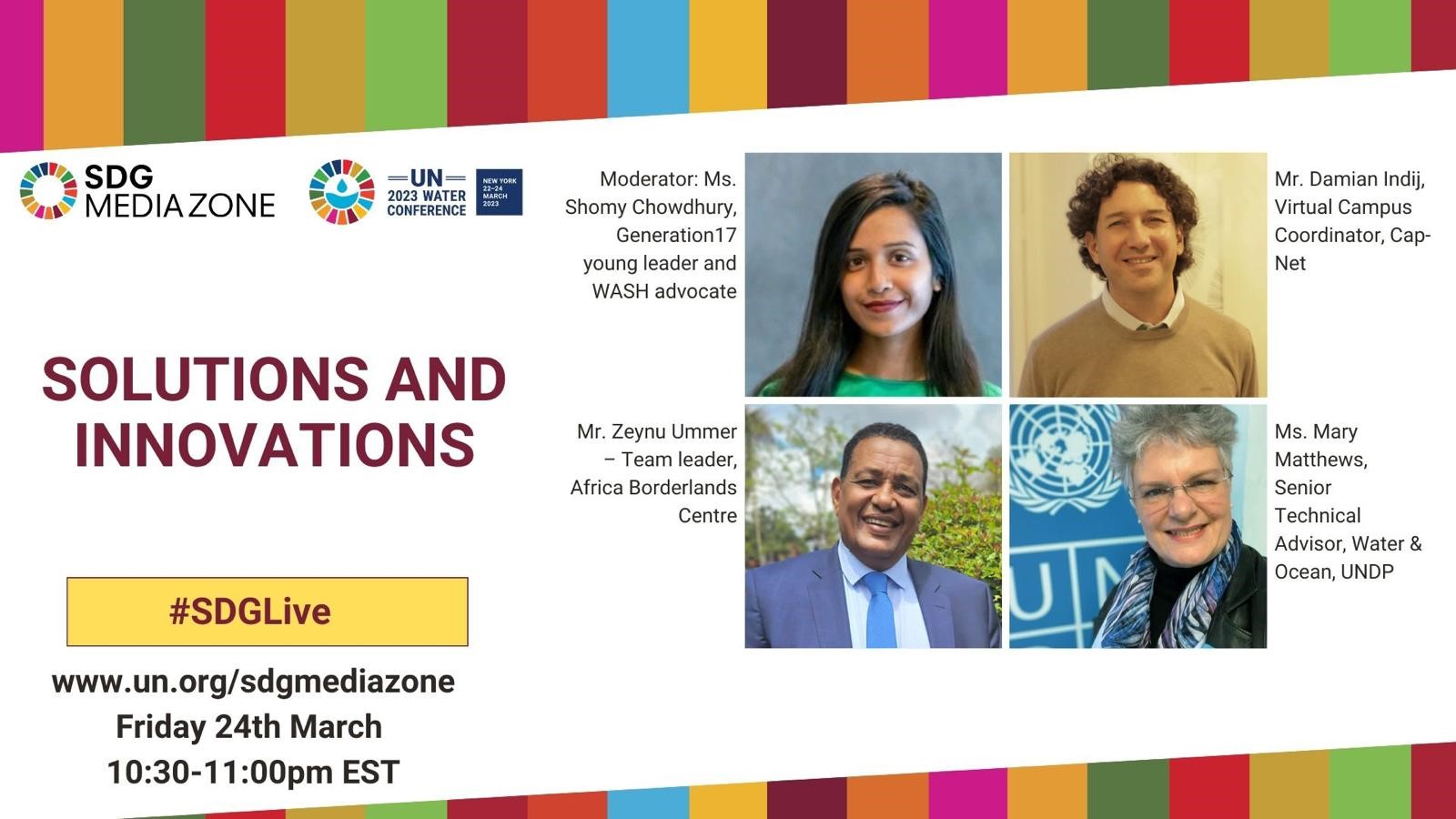 UN Water Conference Side Events Supported by Cap-Net
REWRITING THE RULES FOR PARTNERING: NEW MODELS FOR WATER ACTION
Demonstrating practical approaches to drive cooperation and partnership at all levels in order to help to achieve SDG 6 and other water-related goals and targets.
LAUNCH OF THE INTERNATIONAL HIGH-LEVEL PANEL REPORT ON WATER INVESTMENTS IN AFRICA: PATHWAYS FOR MOBILISATION OF $30 BILLION ANNUALLY BY 2030
LOCAL GOVERNMENTS AND MUNICIPAL AUTHORITIES (LGMA) CONSTITUENCY HIGH LEVEL PANEL: CONNECTING THE CRITICAL AGENDAS OF COP 27, COP 15, THE CONVENTION ON WETLANDS AND THE WETLAND CITY ACCREDITATION SCHEME
ELEVATING CRITICAL VOICES IN WATER DIPLOMACY
Elevates the critical importance of inclusive water diplomacy processes with focus on the linkages between women, water, peace, and security and the essential value of water to peace and human security.
TAKING NEXT STEPS FOR A WATER AND CLIMATE RESILIENT WORLD THROUGH CAPACITY DEVELOPMENT OF PEOPLE AND ORGANISATION
Capacity development as a game changer which takes an adaptive approach to the generation and use of knowledge, thereby enabling partners to address current and future challenges in a changing world.
ACCELERATING SUSTAINABLE DEVELOPMENT THROUGH WATER INNOVATIONS AND SOLUTIONS
Showcasing commitments and present innovative tested solutions to the Water Action Agenda, to meet water challenges exacerbated by climate change and affecting freshwater ecosystems, and to accelerate sustainable development for all, leaving no one behind.
INDIGENOUS PEOPLES AND WATER: JOINT COMMITMENTS TO TRANSFORMING WATER GOVERNANCE, CLIMATE ADAPTATION AND BIODIVERSITY
Indigenous peoples share case studies and practices of good water governance, management and rights. A dialogue between Member States, the UN system and indigenous peoples demonstrates new commitment.
AIP INTERNATIONAL HIGH-LEVEL PANEL ON ACCELERATING WATER RESILIENCE IN AFRICA'S CITIES: BRIDGING THE INVESTMENT GAP AND ENSURING THE DELIVERY OF SDG 6
Aims to bring together city leaders and national governments from across Africa to discuss the importance of water to their shared development.
SOURCE-TO-SEA COLLABORATION: A GAMECHANGER FOR THE WHOLE WATER CYCLE
Exploring how source-to-sea management can be used to achieve multiple Sustainable Development Goals. We will learn from case studies worldwide where this approach has been applied in practice, showcasing lessons learned and success stories as well as barriers faced and how these have been overcome.
Cap-Net advocates for alternative approaches to capacity development
Capacity development can bring transformational change. It enables individuals and institutions to achieve their goals. It can be a key instrument to address the complexity of the world's water issues and its ramifications across the 2030 agenda, but it needs to be innovative, systemic and forward-looking. It requires local ownership for sustainability beyond any single initiative.
We need to take a stand against single issue projects. Previous approaches have not paid sufficient attention to education training or attracting and retaining the skilled workforce required to deliver water and sanitation services.
Navigating water management requires an understanding of scientific and technical disciplines beyond water and sanitation. It includes governance, regulation, IT, environment and ecosystem management, youth and gender inclusion and stakeholder engagement.
Firsthand experience has showed us that demand-driven capacity development brings real behavioural and systems change. Alternative approaches have proven to be financially and environmentally sound, yielding greater outreach, scalability and impact.
For instance, across 60 countries, innovative trainings on our virtual campus led to the adoption of revolutionary international non sewer sanitation standards. It overcame COVID restrictions and provided a platform for sharing experiences and lessons learned. It also facilitated negotiations for the adoption of these standards.
We are calling on our colleagues to seize this opportunity to respond to specific country needs and support the people and organizations to achieve their aspirations. Together, we can provide the necessary knowledge and confidence required to efficiently deliver water and sanitation services.
We must promote South-South collaboration, sound investment, peer-to-peer learning and institutional building for solid and sustained progress towards achieving SDG 6.
We look forward to working with water stakeholders to deliver alternative capacity development that makes a lasting difference a reality for SDG 6 and attainment of all the SDGs that depend on them.
(Excerpt from Cap-Net's gamechanger intervention at Roundtable 2 - Capacity Development, UN Water Conference Stakeholder Consultation)