The United National Development Programme has indicated that the world is seeing a rapid amount of incidents of drought and desertification every year amounting to the loss of 12 million hectares, that is, 23 hectares every 60 seconds (1). Alarmingly, not enough is being done to deal with the risks associated with drought. In the Caribbean, drought risk management is a relatively new concept, and the knowledge surrounding the management and mitigation of drought risk management is, unfortunately, in its infancy stages.
Noting this gap, Caribbean WaterNet in partnership with Cap-Net UNDP hosted the Drought Risk Reduction Workshop in collaboration with the College of Science, Technology and Applied Arts of Trinidad and Tobago (COSTAATT) at the Chaguanas Campus on October 24 – 27, 2017. The aim of the workshop was to sensitize and provide industry professionals with the information and tools to build management capacity of participants regarding water resources.
The Drought Risk Management Workshop was relevant and appropriate as Trinidad and Tobago was put on drought watch by the Caribbean Disaster Emergency Management Agency (CDEMA) in 2016. In the same year, drought warnings were issued by the Caribbean Institute of Meteorology (CIMH). The year 2015 was recorded as the driest year on record for the Eastern Caribbean. As such, these occurrences indicated a need for a proactive approach to deal with the increasing possibility of droughts, the associated risks and appropriate methods of alleviation.
Trinidad and Tobago was no exception. During the last three months of 2009, it experienced severe drought which extended into the first quarter of 2010, with rainfall averaging approximately 25% less than expected, based on historical averages. This drought episode was accompanied by severe forest fires, incidences of crop failure and flash flooding during some spells of post-drought rainfall. This occurrence exposed the inability of water distribution agencies to effectively meet the needs of the population.
In the past, the Caribbean region placed very little emphasis on issues associated with water scarcity, primarily due to its typical climatic conditions. However with the erratic and unpredictable rainfall activity, growing populations and industrial demands, specifically in the case of Trinidad and Tobago, it is imperative that more effort is placed on drought risk management.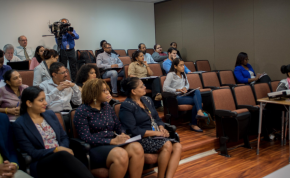 In this regard, the need for a workshop was deemed critical based on the country's present conditions. The course targeted industry professionals who are directly involved in water resource management and/or working on issues related to natural resource management, environmental management, planning (territorial) and water projects, water management and specific water related projects. The training was intended to increase participants' knowledge of droughts and the associated risks as well as inform management and mitigation plans and policies.
The workshop's course content and sessions were facilitated by three specialists, Dr. Jacob Opadeyi, Dr. Everson Peters and Dr. Raid Al-Tahir. During the workshop, participants learnt about drought occurrences all over the world, conditions that make nations vulnerable to drought, the role of climate change, mitigation strategies and the basic principles and concepts of an Integrated Water Resource Management approach.
At the workshop's opening ceremony held on Tuesday October 24th, Feature Speaker, the Honourable Clarence Rambharat, Minister of Agriculture, Land and Fisheries said the sporadic weather patterns are a cause for concern as it is one of the most glaring examples of climate change, "I have a particular interest in this topic because I am from a constituency whose boundaries are basically marked by water. I am particularly sensitive to weather patterns and what is happening in the country, and the consequences of not being prepared all the time." He called on first responder agencies to step up their game in helping residents and businesses alleviate flooding.
Dr. Gillian Paul, President of COSTAATT said the topic of water resource management is dear to the College, "Many of you will not be aware, but COSTAATT was one of the first institutions to introduce a bachelor's degree in Water Resource Management, working extensively with the United Nations in partnership with NIHERST to support water resource training through our department in Environmental Studies. We feel this workshop is very much at home here because we have a track record of being concerned about environment and we believe in training people to manage the environment."
Network Manager of Caribbean WaterNet Cap-Net UNDP and Senior Lecturer of COSTAATT's Department of Natural and Life Sciences and, Dr. Ronald Roopnarine called for a proactive approach to deal with the effects of drought. This, according to him, takes place over a period of time and is slow and not sporadic like what happens with flooding. He said, "It is something that requires intricate management and I hope that all the workshop participants, through the expert knowledge of the facilitators, gain the necessary information required for implementation and action."
At the end of the workshop, participants were expected to have an improved understanding of strategic development and adaptation planning for Drought Risk Management, gain a better understanding of drivers and impacts of drought hazard, design and plan a risk assessment as it pertains to droughts, be able to train others in drought risk management and share experiences, and find responses to their questions and applicable tools and mechanisms to be active advocates and participants in Drought Risk Management. Participants also received certificates of participants upon completion of the workshop.
The partnership between Caribbean WaterNet and COSTAATT is poised to extend beyond this workshop, as the entities intend on pursuing additional workshops and training sessions on the following topics, such as Flood Risk Management, Water Pollution, and Water Conservation. This will also include several short courses in partnership with Cap-Net UNDP.
(1) http://www.un.org/sustainabledevelopment/biodiversity/ and http://www.tt.undp.org/content/trinidad_tobago/en/home/sustainable-development-goals/goal-15-life-on-land.html
For more information, please contact Network Manager of Caribbean WaterNet, Dr. Ronald Roopnarine. ')}