The new strategic alliance between Cap-Net UNDP and the Global Water Partnership was announced on 29 August at a joint mingle organised by UNDP, SIWI, Cap-Net and GWP during World Water Week 2019.
This celebration of synergies is part of GWP becoming an executing partner for Cap-Net as of 1st April 2019. This move not only provides Cap-Net with improved administrative and management agility, but also facilitates a more consolidated programmatic collaboration between Cap-Net and GWP networks.
Celebrating this new strategic alliance, Torgny Holmgren, SIWI's Executive Director; Marianne Kjellen, UNDP Senior Water Advisor, Water & Ocean Governance Programme (WOGP); and Monika Weber-Fahr GWP's Executive Secretary & CEO all emphasized the importance of these kinds of partnerships working together towards achieving the SDGs and water security.
"UNDP's Global Water and Ocean Governance Support Program works from 'source-to-sea' and addresses so many issues that we just cannot manage it by ourselves. We truly depend on our partners: the Stockholm International Water Institute and the Global Water Partnership. Thank you indeed for taking on the hard work!" stressed Marianne Kjellen.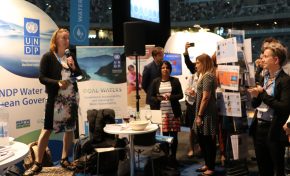 Since its inception in 2002, Cap-Net UNDP has been implemented through the United Nations Office for Project Services (UNOPS). At the beginning of 2019 a plan was implemented to allow Cap-Net to transition from UNOPS to GWPO and ensure proper closure of the old project, along with the parallel start of the new agreement activities in the new project ("Water and Ocean Governance Support Programme of UNDP"), without too many interruptions and changes. An agreement between UNDP and GWPO, signed end of March 2019, ensured a smooth transition and meant that the implementation of the Cap-Net project could start as of 1 April 2019. Today, the transition is 100% complete with most administrative functions being handled by GWPO, including contracting with partner networks and staff contracts.
"We have got no time to lose with administrative activities, we have got no time to lose with too many levels of organisations. Join forces, do things together, align strategies and implement them together is the direction" said Monika Weber-Fahr.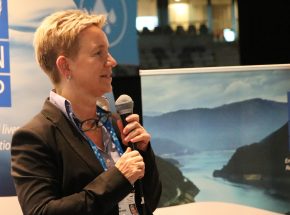 The Global Water Partnership and Cap-Net share a history together. The creation of Cap-Net involved GWP as a key founding partner of the network.
Monika Weber-Fahr ended her speech by welcoming the Cap-Net network and broadly UNDP within the GWP family. "The purpose of this alliance is to deliver more, and more effectively", she affirmed, and finished with a toast "to less fragmentation and more action".