UNESCO-IHP Malaysia in collaboration with UNESCO Jakarta, Water Footprint Network, Malaysian Water Partnership and Malaysian Capacity Development Network in Sustainable Water Management (MyCDNet), private organisations, lecturers and NGOs organised Southeast Asia (SEA) Water Footprint Training Course from 24 to 26 of February 2015 at Ampang, Malaysia.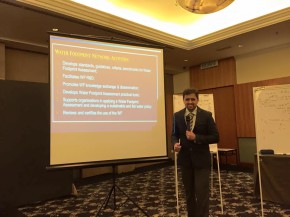 Individuals whom were previously trained in Pretoria, South Africa under the Cap-Net UNDP funded initiative in 2013 were the facilitators for invited lead trainer Dr. Ashok Chapagain from the Water Footprint Network.
A total of 47 gender balanced participants (22 female and 25 male) consisted of 8 foreign and 39 locals took part in this course and had the opportunity to learn about water footprint assessment concepts and its methodology.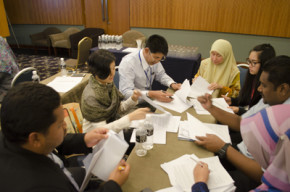 Dr. Hong Chern Wern represented Cap-Net in this course and were responsible
for interviewing selected participants for a video interview on the immediate impacts and their plans to apply the new knowledge back at their home country.
For more information, please contact course lead trainer Dr. Ashok Chapagain at ashok.chapagain@waterfootprint.org. ')}