"We don't want to create yet another network or platform that goes on top of anyone else or do things in parallel. We should, as much as possible, leverage from all the networks, platforms and other mechanisms that are already doing a lot of good work on capacity development."

Abou Amani - Director of the Division of Water Sciences and Secretary of the Intergovernmental Hydrological Programme, UNESCO
Global Water Education Network Launched at World Water Week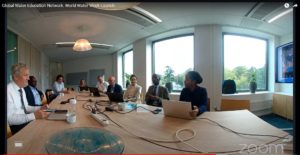 Click on the photo to watch the launch
On Monday August 21, the Global Water Education Alliance joined UNESCO to launch the Global Water Education Network (GWEN), a voluntary commitment to the Water Action Agenda stemming from the 2023 UN Water Conference. A gamechanging effort in water capacity development, the Network aims to improve collaboration between water education institutions for enhanced delivery of water capacity development needs.
The Alliance comprises IHE Delft Institute for Water Education, Stockholm International Water Institute (SIWI) and Cap-Net UNDP.
During the launch, members of the Alliance provided updates on the intended use of the platform.
According to Yasmina Rais El-Fenni, Senior Programme Officer at Cap-Net UNDP, GWEN is open to any organization or institution that focuses on water related education and capacity development.
The aim is to be truly inclusive and global in scope with the push to foster collaboration between and across north and south. And the aim is also to serve as a knowledge broker between network members.

Part of it will provide support to national governments and key institutions responding to the needs on the ground, but it will also provide a knowledge brokering platform which will have a repository of teaching tools and lessons learned.

Yasmina Rais El-Fenni, Senior Programme Officer - Cap-Net UNDP
While GWEN strives to be a global effort, emphasis was placed on the importance of local knowledge, which will be captured within the network's Capacity Development Lab.
IHE-Delft Liaison Officer, Gaetano Casale explains.
The lab is to have as much as possible interaction with the institutions and existing networks that are producing this knowledge in different countries and different contexts and to see how we can learn from each other also based on the demands and the needs from different regions because there is a lot to learn.

[At World Water Week] a lot of emphasis was given on indigenous knowledge. If you create a network that is able to take on the local knowledge, then you are able to upscale the learning as a water education community.
UNESCO has also partnered with the Alliance to launch GWEN. Abou Amani, Director of the Division of Water Sciences and Secretary of the Intergovernmental Hydrological Programme, highlights the importance of the network to the UN's work with water.
This Global Water Education Network is also a contribution to the UN Water Capacity Development Initiative. There is a developing initiative supporting the acceleration of SDG 6, and the Global Water Acceleration Framework has five accelerators and one of the five is on capacity development.

This is why it is extremely important to mobilise all institutions working on capacity training on water to come together.
Also on site to launch GWEN were Håkan Tropp, SIWI Programme Director Capacity Development and Themba Gumbo, Director of Cap-Net UNDP.
More details coming soon.