A training course was organised by the National Water Resources Institute in collaboration with the West African Network (WANet) for Capacity Building for the water resources sector in the West Africa sub region at the National Water Resources Institute, Kaduna from 7th to 11th of August 2017.
This training focused on the premise that the issues touching all segments of the society and all economic sectors demand more integrated approaches to developing and managing water resources and sanitation and hygiene.
The objective of the training was "to create awareness on climate change and climate resilience in particular as well as to create impact on the basic knowledge on improving water supply and sanitation infrastructure to withstand climate change effects and develop adaptation measures".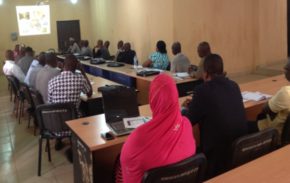 Various water resources related agencies and in particular; the Federal and States Ministries of Water Resources, Water Boards/Corporations; River Basin Development Authorities; the Academia; Rural Water Supply and Sanitation (RUWASA); NGOs in WASH and also Hydrological Services Agencies nationwide were targeted for the course. A total of 25 participants attended the course.
The training commenced on Monday, 7th August 2017 with the opening address and formally declaring the training opened by the Executive Director of the National Water Resources Institute, Kaduna in the presence of the Head of training Department, Dr. Martin O. Eduvie (WANet Manager), Head of Research and Technical Services, Dr. Waheed Alayande and Director of Administration and Finance, Mr. Yahaya Baba-Gombe.
The technical sessions of the training program included lectures presentations; participatory discussions; case studies; climate change related videos; questions/comments; group works; and fieldwork. The participants at the end of the training were awarded certificate of attendance after completing the evaluation form for the course.
For more information please contact WANet Network Manager, Dr. Martin Eduvie. ')}