Despite the numerous challenges the global pandemic is posing, PhilCapNet conducted a 3-day "Training of Trainers" (ToT) for the tribal leaders of indigenous peoples in the province of Bukidnon in the southern island of Mindanao on 27-29 October. The TOT was on Bamboo Plantation for climate change mitigation and adaptation.
Under the Indigenous Peoples' Rights Act, indigenous peoples are responsible for maintaining the ecological balance in their ancestral domain by protecting the flora, fauna and watersheds. The 21 participants in the training were tribal leaders from the six ancestral domains situated within the headwaters of the second largest river system in the Philippines, the Pulangi River or Rio Grande de Mindanao. The ancestral domain owners have pending proposals with the National Power Corporation for funding the establishment of bamboo plantations along the banks of the Pulangi River, upstream of the Pulangi IV Hydropower Plant, said Datu Jemuel Perino, Vice-President of PhilCapNet.
Forester Myrna Decipulo, the Principal Trainer, highlighted that bamboo mitigates climate change by acting as a carbon sink that absorbs carbon dioxide from the atmosphere. It surpasses the carbon sequestration capacities of any current fast-growing reforestation species, since after harvesting, "it regenerates and just keeps on giving of itself". Bamboo's water storage and erosion control capabilities also facilitate adaptation to the negative impacts of climate change.
The role of bamboo in the global carbon cycle has been recognised by the Department of Environment and Natural Resources by focusing the funds and efforts of the Expanded National Greening Program (ENGP) on the plantation of bamboo in the Philippines.
The training covered the whole bamboo life cycle, from plantation, protection and management, intercropping with fruits and vegetables, and  sustainable harvesting for the marketing of raw materials. Additionally, the participants received a lecture by Engr. Rodora Gamboa, Executive Director of the Maynilad Water Academy about the value chains for traditional bamboo products and for bamboo products including school desks, floors and furniture – for both local and foreign markets.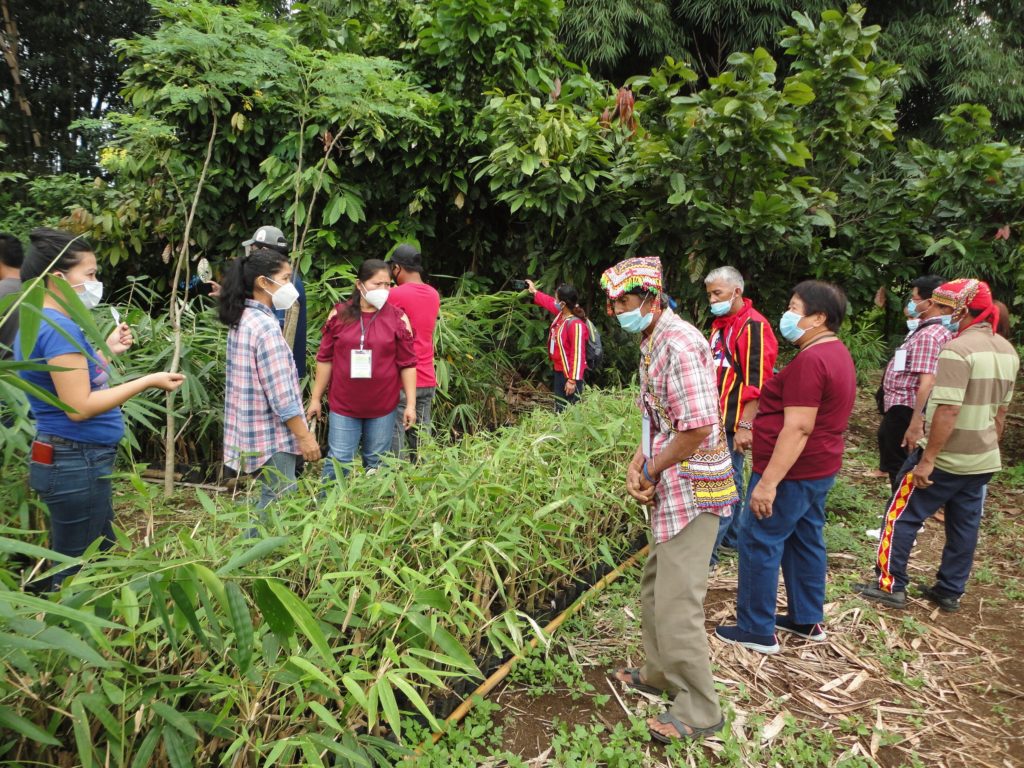 "Bamboo planting is familiar to our tribe, since we are using bamboo in our daily life. However, with this training, I came to know that it has many more uses, including the great economic potential of bamboo in the world market, considering that it is an excellent substitute for wood through the engineered bamboo technology, and therefore, helps in preventing further cutting of trees, and thereby helping in the cleaning of our polluted air" affirmed Datu Alvaro Salahag, Jr. of the Bukidnon Umayamnon Tribe.
"The results on the ground would soon be felt with the establishment of bamboo plantations that will be reforesting denuded areas and provide indigenous people and other upland communities with sustainable incomes and livelihood opportunities" expressed Cecilia Soriano, PhilCapNet President.