Following the success of the first national forum organised by MyCDNet in 2016, the National Forum 2017, with the theme 'Wastewater as a Resource: Opportunities & Capacity Development, saw a greater turnout totalling 123 participants from government agencies, the private sector and institutions of higher learning.
The National Forum 2017 was officially opened by the Honorable Dato' Dr. Tan Yew Chong, Deputy Secretary General of the Ministry of Energy, Green Technology & Water (KeTTHA), on 24 October 2017 in Kelab Golf Perkhidmatan Awam (KGPA). On 25 October 2017 there was a half-day technical site visit to Pantai 2 Sewage Treatment Plant – an underground facility with a beautiful sprawling ecopark above it.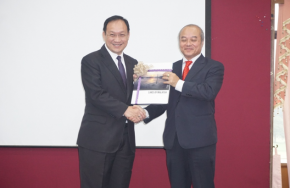 There were four keynote speeches and ample time for the Q & A sessions. The first session was chaired by Dato' Ir. Haji Nor Hisham bin Mohd Ghazali, Director of Water Resources and Hydrology Division, Department of Irrigation & Drainage Malaysia (DID). The keynote topics were Wastewater Management and Policy in Malaysia by Mr. Muhammad Rosli Bin Muhammad Jaafar, Undersecretary Sewerage Services Industry Division, KeTTHA, and Biological Wastewater Treatment Technology by Assoc. Prof. Dr. Ma'an Fahmi Rashid Al-Khatib of the Department of Biotechnology Engineering, International Islamic University of Malaysia (IIUM).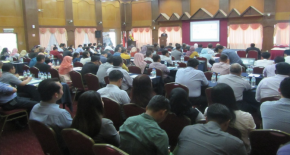 The second session was chaired by Mr. Mohd Ridhuan bin Ismail, Chief Executive Officer of Suruhanjaya Perkhidmatan Air Negara (SPAN). The keynote topics were Leachate Treatment in Landfills in Malaysia by Mr. Ng Weng Mun, Senior Manager of SWM Environment Sdn Bhd, and Capacity Development in Water and Wastewater by Mr. Jan T.L. Yap, Chairman of AguaJaring.
The site visit to Pantai 2 Sewage Treatment Plant on Day 2 was a first for many participants, especially those from out of state, as the facility is relatively new. It was an informative and memorable half-day out. Heartfelt thanks to Indah Water Konsortium Sdn Bhd (IWK) for organizing and facilitating the visit.
For more information please contact Ms Alicia Lim. ')}