Instructor-led Online Course on WASH Climate Resilience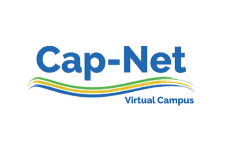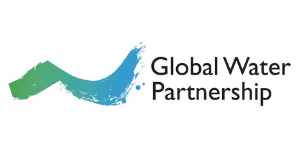 About this Course
Droughts, flooding, rising sea levels and extreme weather are already affecting the access to WASH facilities and servicesand putting the lives of millions at risk.  In order to protect communities, it is vital that water and sanitation systems are resilient to the impacts of climate change.  This in turn, will help improve community resilience to climate-related shocks and stresses.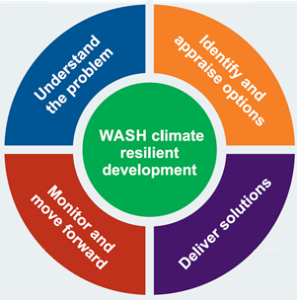 This course aims to provide an introduction on how to effectively design and implement WASH climate resilience programming.  It will cover all quadrants of the Strategic Framework for WASH Climate Resilience, beginning with how to assess the climate risks and the policy/strategy situation in-country, and identify and appraise interventions.  Specific solutions, including technology options will be discussed, along with how to effectively monitor and move forward with the WASH climate resilience agenda.  Options for WASH-climate related financing will also be discussed.
The objective of the course is to ultimately build the capacity of WASH sector professionals to improve existing WASH programmes, making them more sustainable and climate-resilient.  A certificate will be provided on completion of the course.
Objective
This online course offers participants an introduction to the main principles and concepts of WASH climate resilient development.  The course provides guidance on how design and implement climate resilient WASH programming in an effective and methodological manner through the use of the Strategic Framework.
Learning objectives
By the end of the course participants will:
Have an improved understanding of how climate change impacts water, sanitation and hygiene globally
Understand how to carry out a WASH climate risk assessment and prioritise support for the most vulnerable communities
Understand how to identify and appraise the best options for WASH climate resilient programming
Have an improved knowledge of WASH climate resilient technology options
Understand how to implement the identified approaches and effectively monitor progress and move forward with the WASH climate resilience agenda
Have an improved knowledge of how to access WASH-climate related financing
Gain knowledge of how to access additional technical support and guidance if required.
Participants
The course is open to a maximum of 80 participants representing:
UNICEF staff
Representatives of national ministries or water/sanitation agencies which are part of National or State (Provincial) Governments and have been nominated by UNICEF for participation
Members of GWP Country Water Partnerships or Regional/GWPO Staff.
Members of Cap-Net affiliated networks
As an introductory course, participants are not expected to have previous knowledge on WASH climate resilience, but would ideally be expected to have prior experience of working in the WASH or climate change sector.
Language
The course language is English.
Contents and course structure
The online course comprises five modules. The first four modules are focused on the GWP UNICEF Strategic Framework for WASH Climate Resilient Development. The fifth module focuses on climate financing using guidance materials developed also by GWP and UNICEF
Module 1:WASH Climate Resilience and the GWP-UNICEF Strategic Framework
Module 2:Understanding the Problem – Risk assessments for WASH
Module 3: Identifying and Appraising options
Module 4:Delivering Solutions & Monitoring and moving forward
Module 5:Climate Financing applied to WASH
Each module includes mandatory and recommended readings. Websites with complementary information are also available to participants.
Participants are expected to take part of Forum Discussions and their participation will be monitored.
After completion of each Module participants will take a quiz, with three attempts. Passing the quiz will allow participants of the course to get access to the following modules.
There will be two assignments; one after Modules 2 and another one after Module 5. Satisfactory completion of all of the modules and the two assignments will be a requirement for obtaining the certificate of the course.
Participants expected dedication and certification
Participants are expected to dedicate a minimum of eight hours per module to the course, plus an additional four hours for each of the two assignments. This time dedication should be enough to review mandatory readings and participate in all activities.
The total length of the course, including specific time for the preparation and submission of two written assignments is 14 weeks.
The standard of the course will be very high and requires participants to not just dedicate their time, but to also invest in the learning and to ensure that they can focus on the modules, learning and the assignments. Passing the quizzes and the assignments will require effort, but will help ensure that everyone who completes the course has the required knowledge to effectively design, build and monitor a climate resilient WASH programme, as well having a clear understanding of what climate financing options are available.
Participants who satisfactorily complete the course will receive a certificated issued by the course organisers.
Participants application and start date of the course
Application:Interested participants are welcome to apply to this course between 7 April to 6 May, an online form will be available here.
Participants selection: Selected participants will be informed on 13 May
Course starts: Monday 8 June with two weeks for each module, plus two weeks for each of the two assignments (and to allow a catch-up). Dates for the modules are given below. For those working in Covid-19 affected countries, additional time can be made available at the end of the course should additional time be necessary to complete the course
| | | | |
| --- | --- | --- | --- |
| | Start date | End date | Duration |
| Module 1 | Mon 08 Jun | Sun 21 Jun | 2 weeks |
| Module 2 | Mon 22 Jun | Sun 05 Jul | 2 weeks |
| Catchup/Assignment 1 | Mon 06 Jul | Sun 19 Jul | 2 weeks |
| Module 3 | Mon 20 Jul | Sun 02 Aug | 2 weeks |
| Module 4 | Mon 03 Aug | Sun 16 Aug | 2 weeks |
| Module 5 | Mon 17 Aug | Sun 30 Aug | 2 weeks |
| Catch up/Assignment 2 | Mon 31 Aug | Sun 13 Sep | 2 weeks |