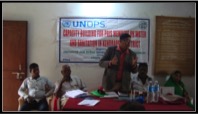 Individual health and hygiene is largely dependent on adequate availability of drinking water and proper sanitation. There is, therefore, a direct relationship between water, sanitation and health. Consumption of unsafe drinking water, improper disposal of human excreta, improper environmental sanitation and lack of personal and food hygiene have been major causes of many diseases in developing countries. India is no exception to this.

The entire template on sanitation underwent a massive change with the address of the Prime Minister to the Nation on Independence Day of 2014, when he called upon Swachha Bharat (Clean India Campaign) by the year 2019. With this clarion call WASH, especially issues of sanitation, has got unprecedented importance in the corridors of power as well as among the NGO sector.
India is home to more than 1.25 billion people which constitute about one-sixth of the world's entire population. Though the country has made great strides in the past few years economically, there are still huge problems in terms of social development. The Ministry of Drinking Water and Sanitation (MoDWS) recognizes huge challenges that will come up for reaching the goal of Swachha Bharat by the year 2019. Clearly, there is a severe lack of motivated and skilled manpower at the field level to implement the well-intended policy. With the anticipated acceleration of WASH programmes following the Prime Minister's clarion call for Swachha Bharat by the year 2019, more skilled and motivated manpower will be needed to achieve the goal.
Based on this need, Institute for Rural Development and Planning (IRDP) with financial assistant from SCAN and CapNet-UNDP will organise Swachha Doot training programs during October and November 2015 for 7 batches in Kendrapara district of Odisha, India. Both Male and female participants from 9 blocks has been selected in consultation with the Rural Water Supply and Sanitation department of Government of Odisha. We hope the capacity building programme will greatly help district machinery, partner agencies, government, and community members to implement the sanitation programme in a smooth manner. ')}