On 2 June 2021 the Malaysian Capacity Development Network for Sustainable Water Management (MyCDNet) and the Indah Water Konsortium Sdn Bhd (IWK) organised the online learning exchange on "Alternative Water Supply for Vulnerable Groups in Malaysia". The event was hosted by the Asian Sewerage Training, Research & Innovation Centre of Excellence (ASTRICE) in partnership with National Water Research Institute of Malaysia (NAHRIM), the Global Environment Centre (GEC) and EFINITY Social Enterprise, and it was supported by Cap-Net UNDP.
The online exchange aimed to create awareness on the challenges faced by vulnerable groups in Malaysia when it comes to accessing potable water. The seminar illustrated some of the current solutions for providing clean water to vulnerable groups in the event of water disruptions or unavailability of running water from the treatment plants. The objective was to highlight alternative ways for these groups to gain access to potable water for domestic use. Expected outcomes, according to MyCDNet, was for participants to be able to better utilise their talents, skills and resources in advancing communal practice of water use, within and outside of their organisation.
Dato' Ir Lim Chow Hock, Network Manager of MyCDNet, opened the webinar with welcoming remarks and an introduction of MyCDNet and Cap-Net UNDP. The webinar was moderated by Mr Sheldon Boyd Aman from ASTRICE.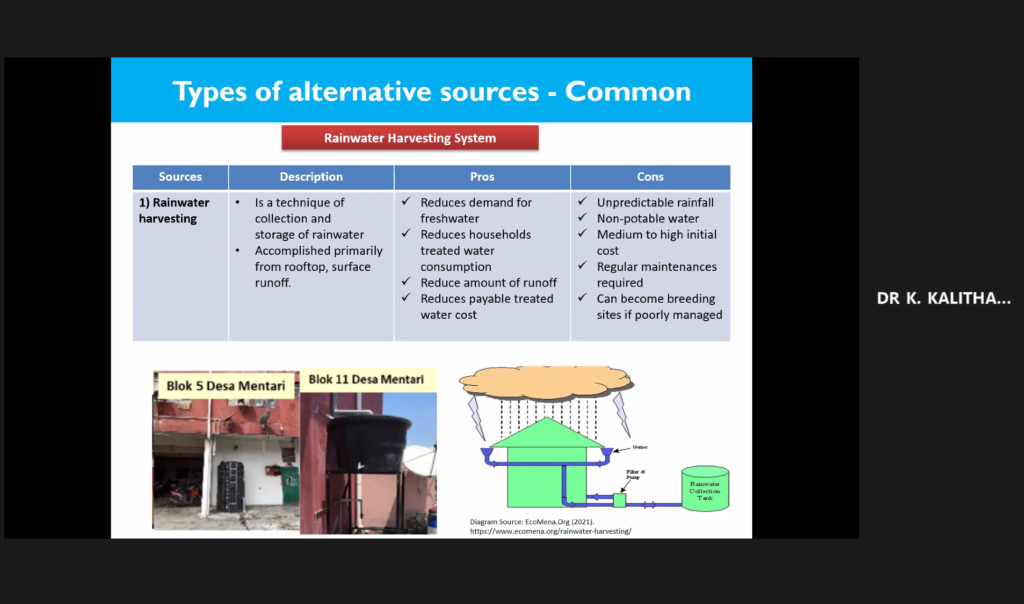 Mr Robest Yong from EFINITY Social Enterprise talked about "Making Potable Water" with an innovative and portable filtration system that is used in many unreachable areas within Malaysia as well as in other parts of Asia. His talk was followed by a brief Q&A session with Mr. Yong, and Dr. Kalithasan Kailasam from Global Environment Centre, who also gave a comprehensive presentation on the available types of alternative water sources, and case studies of projects focused on conserving water resources and supply for communities. To conclude, Ir. Marini Mohamad Ideris presented an in-depth look into the Research and Development initiatives on a rainwater harvesting system by NAHRIM.
Discover the course materials and replay the session on www.mycdnet.org