The Malaysian Capacity Development Network for Sustainable Water Management (MyCDNet) has organised and conducted the first in a series of courses for Water Safety Plan (WSP) from 3rd to 4th of July 2018. In collaboration with Specialists from the Malaysian Water Association (MWA), Universiti Malaya, Akademi Sains Malaysia and Asia Pacific Environmental Consultants (ASPEC), with support from Cap-Net UNDP, the ToT Course took place held at the Indah Water Training Centre Kuala Lumpur, Malaysia, with a total 30 participants who were mainly from water agencies nationwide.
This first WSP Introductory Course, which consists of the first five modules in a series of 15 modules in the Water Safety Plan Course, was specifically designed to assist water-related agencies and water operators to start developing their WSPs if they have not done so, or to assist those that are reviewing their WSP. Two other instalments of the WSP Course of five modules each will be rolled out by MyCDNet in the next two years.


Water Safety Plan (WSP) is a systematic approach to address the provisions of good, safe and consumable water from water source to consumption. The value of WSP has been repeatedly highlighted as crucial for all countries of the world to adopt in order to provide safe and clean water for all in the latest revisions of the World Health Organisation (WHO) Guidelines for Drinking-Water Quality (GDWQ) (2017).
To design and produce a WSP, a thorough scientific and technological assessment of the water supply process from water source to the consumer's tap must be carried out by the water-related agencies and water operators. Related to this, are the hazards and risks, sanitation and hygiene, all of which must also be identified in tandem with minimizing the risks at every step in the water supply chain. Every water-related agency and operator has a duty to provide the most effective means of maintaining a safe and sustainable water supply for all aspects of human consumption that includes drinking as well as other forms of water contact that meet the regulatory water standards and basic human health.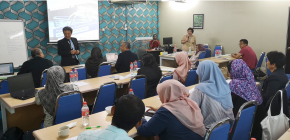 The Deputy Network Manager for MyCDNet Tuan Haji Md Khairi Selamat opened the TOT Course on Water Safety Plan with welcoming remarks and an introduction of MyCDNet and the Course. It was an intensive two-day course covering 5 modules and 3 exercises leading to the development of a WSP by each of the 3 groups of participants. At the end of the Course, each group presented their WSP and the winning group received souvenirs from MyCDNet. The presentations were judged by MyCDNet Network Manager Dato' Ir Lim Chow Hock and Advisor Datin Zaharah Hj Mahmud based on the WSP development criteria in Modules 1 – 5.
Module 1: What is WSP? and Module 2: Roles, Responsibilities and Legal Aspects were presented by Dr Low Kwai Sim, FASc, who was certified by The Water Institute in the University of North Carolina upon completing the 10-week course on Water Safety Plans.
Module 3: Team Development in WSP was presented by Mr Mansor Abd Ghani, a water specialist from the Malaysian Water Association with vast experience in water supply and resource management and training.
Dr Low continued with Module 4: Development of WSP with a segment on Water Quality and Public Health Implications Along the WSP Chain presented by Prof. Dr Victor Hoe from the Medical Faculty of University of Malaya. Lastly, Mr Mansor presented
Module 5: Understanding the Hazards and Risks before the participants were given time to complete the WSP in their groups.
At the end of the Course, Dato' Ir Lim Chow Hock presented the souvenirs to the group members with the winning WSP and closed with a speech that highlighted the nation's need for proper WSPs to be in place.
Participants were given ample time to do the exercises and were encouraged to ask questions and give feedbacks throughout the lectures, which made for a lively and interactive Course. Some constructive comments were noted to improve on related courses in the future. The overall positive feedbacks showed that future follow-up courses on WSP would be well attended.
Fore more information please contact MyCDNet Secretariat . ')}