The 8th World Water Forum will take place from 18 to 23 March 2018 in Brasilia and has elected "Sharing Water" as its underlying theme. As part of preparation, everyone from around the globe will once again have the opportunity to voice their opinions at worldwaterforum8.org from 12 of June 2017. This is the 2nd launching of the forum and Cap-Net UNDP act as one of the moderators in this platform. Each round will last between 8-10 weeks.
The YOUR VOICE platform allows anyone with access to the internet a chance to contribute to the world's largest water event. It is a unique opportunity to share experience, exchange ideas and learn about the world's most pressing water issues!
The online platform is a new initiative of the 8th World Water Forum, which will be held from 18 to 23 March 2018 in Brasilia, Brazil, under the overarching theme 'Sharing Water'.
 From 12 June, join the second round of discussions and add YOUR VOICE to the online consultation convened by the 8th World Water Forum. Participants are invited to answer questions about Capacity, Sharing, Governance and Sustainability in six thematic discussion rooms: they are Climate, People, Development, Urban, Ecosystems and Finance.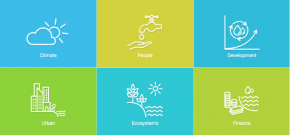 Go to worldwaterforum8.org/your-voice to participate.
YOUR VOICE – worldwaterforum8.org/your-voice
Twitter – twitter.com/WaterForum8
Facebook – fb.me/WorldWaterForum8
')}