The 'Education and capacity building for sustainable water management' was conducted by CAR@WAN on 9 of June, 2015 under the auspice of UNESCO Cluster Office within the framework of the High Level International Conference on the implementation of the International Decade for Action 'Water for Life', 2005-2015. This session was a side event in conjunction with 'High Level International Conference on Water resources' and was participated by approximately 50 representatives of governments universities, research institutions, public and international organisations.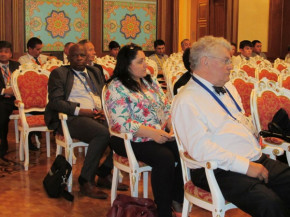 The event offered an opportunity to illustrate the importance of capacity building and networking at different levels for sustainable water management and was aimed to promote water education, the principles of IWRM, capacity building activities, including sharing the experiences on teaching IWRM course within university' curricula.

They shared their ideas on improving of educational methods by using such networks, as CAR@WAN for introducing IWRM principles into environmental management. The has also contributed to awareness raising on importance of education and networking, since water education and cooperation, including trans-boundary cooperation which are catalysts in achieving sound and sustainable water resources management. For more information please contact CAR@WAN coordinator.
')}