A regional training workshop on Integrated Water Resources Management as a Tool for adapting to Climate Change took place in Antigua & Barbuda from 15 to 16 of December 2014 through a partnership arrangement among the Global Water Partnership-Caribbean, Cap-Net UNDP, Caribbean WaterNet and the Antigua Public Utilities Authority (APUA).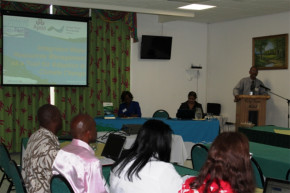 Facilitators for this workshop included GWP-C staff, established trainers from organizations including the University of Guyana as well as younger researchers from the Centre of Resources Management and Environmental Studies (CERMES) of the University of the West Indies, Cave Hill Campus in Barbados.
A total of 25 regional and local stakeholders mainly from Organisation of Eastern Caribbean States (OECS) countries including non-governmental agencies, states agencies and water utilities participated in this workshop. The training provided in this workshop focused on topics such as the drivers of climate change; strategy development and planning for adaptation; and measurements of adaptation in water management. The training sessions also emphasised the vulnerability of Small Island Developing States (SIDS) to climate change. At the end of the workshop participants stated that they were now more equipped and ready to share their knowledge on IWRM within their respective agencies and countries.
For more information please contact Prof. Dr. Jacob Opadeyi or Ms. Natalie Boodram.
')}