The Malaysian Capacity Development Network for Sustainable Water Management (MyCDNet) successfully organised and carried out its Biennial National Forum 2019 on 9 and 10 July in the Research Management & Innovation Complex, Universiti Malaya, Kuala Lumpur, Malaysia with the theme Water for Sustainable Development: What's Next. Dato' Ir Lim Chow Hock, Network Manager of MyCDNet, gave the welcoming speech.
The Deputy Secretary General of the Ministry of Water, Land & Natural Resources, Honourable Madam Azizah Ariffin officially opened the Biennial National Forum 2019 to a turnout of about 110 that was made up of specially invited guests, government officials, representatives from co-organisers and supporting partners, speakers, moderators, and 80 registered Forum participants from government agencies, the private sector, NGOs, and institutions of higher learning.
The Forum was divided into four important sessions comprising two papers and a Q & A segment each. There were one Keynote address and two sessions on each of the two full-day event. The sessions' moderators and paper presenters were hand-picked specialists in the chosen topics. Based on participants' response and comments, the Forum was very well organised with contents that were on-point, and moderators and speakers that were experts in their sessions.
Day 1 on 9 July started with the first Keynote Address by Mr Bekithemba Gumbo, the Director of Cap-Net UNDP, titled Capacity Development for Inclusive and Sustainable Water Management – "Leaving No One Behind".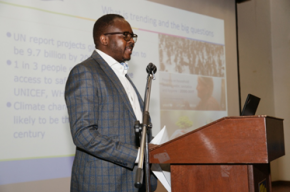 Session 1 – Climate Change Actions: Water Security for a Low Carbon Economy was moderated by Ms Lavanya Rama Iyer, Head of Policy & Climate Change, WWF-Malaysia. The first paper Global Warming of 1.5C: Challenges for Water Security and Transitioning to a Low Carbon Economy was presented by Prof. Dr. Joy Pereira, Professor & Principal Research Fellow at SEADPRI-Universiti Kebangsaan Malaysia, Institute for Environment and Development. Mr Mansor Ghani, Council Member of The Malaysian Water Association, presented Paper 2: Climate Change Adaptation in the Water Supply Sector.
Session 2 – Building Resilience: Water-wise Solutions was moderated by Dato' Ir Dr Hj Md Nasir bin Md Noh, Director General of National Hydraulic Research Institute of Malaysia (NAHRIM). The third paper Bio-Remediation was presented by Adj. Prof. Anthony Wong, Group Managing Director of Frangipani Hotels & Resorts Sdn Bhd. Paper 4: Wastewater Processing: An Overview of IWK – Strategies Progressing Forward was presented by Mr Faizal Othman, CEO of Indah Water Konsortium Sdn Bhd.
A Special Paper that looked at Coastal Reservoir as Sustainable Solution for Water Resources to Meet SDG6 was presented by Prof. Shuqing Yang, Associate Professor of the University Of Wollongong, and Director of Coastal Reservoir Research Centre in NSW, Australia.
The first day ended with an optional Dinner & Excursion for the participants and supporting partners/co-organisers. An early buffet dinner was followed by a visit to Blue Pool, a stretch of the Klang River at the Jamek Mosque, with night time light shows that turn the water a cobalt blue. The river surrounding the Mosque, where the Klang and Gombak rivers converged, is part of the River of Life Project and was named the best waterfront in the world by British online news portal – the Independent.
The Biennial National Forum 2019 Day 2, 10 July, started with the second Keynote Address titled Coping with the Problems of the Energy-Water-Food Nexus by Emeritus Prof. Ian Douglas from the University of Manchester, UK.
The third session – Sustainable Cities: Smart Water Management for Community Well-Being was moderated by Dr Nor Azlin Tajuddin, Assistant Professor in the Department of Sociology & Anthropology at the International Islamic University Malaysia. The Director of the Department of Irrigation and Drainage, Federal Territory of Kuala Lumpur, Ir. Haji Nishad Mohamed Bin Cj Mohd Shaffy presented Paper 5: Water Balance and its Importance to the Smart City. Paper 6: Optimization of Urban Water Systems via Wise Water Minimization & Wastewater Utilization was presented by Dr Khor Cheng Seong, Senior Lecturer in the Chemical Engineering Department at Universiti Teknologi PETRONAS.
The final session, moderated by Ir. Lee Chin Shyan, Deputy Director of the Water Regulatory Department in SPAN, looked at Malaysian Achievements of Water-related SDGs. Paper 7: Water and the SDGs: Progress and Challenges was presented by Ms Nasha Lee, an Environment Analyst for Climate Change & Energy at United Nations Development Programme (UNDP) Malaysia. Then, Dr Renard Siew of World Economic Forum Expert Network Group presented Paper 8: Water for Sustainable Development.

The Forum ended with Haji Md. Khairi Selamat, Forum Chairperson and Deputy Network Manager of MyCDNet, wrapping up the sessions in his closing remarks.
MyCDNet thanks the Honourable Madam Azizah Ariffin, Universiti Malaya for the venue, sponsors, facilitators, speakers, rapporteurs, participants, and co-organizers – Indah Water Konsortium Sdn Bhd, Department of Irrigation & Drainage, The Malaysian Water Association, Global Environment Centre, and Asia Pacific Environmental Consultants Sdn Bhd – for their time, energy and support in making this Forum a success.
Note: The full collection of photos can be viewed at https://photos.app.goo.gl/E6MDC4ohfuQKmm6XA
Presentation slides are here https://drive.google.com/drive/folders/1tIyR883TcyaKLxhJjvcFe16I6HbrYJjG?usp=sharing