The training course took place between 15th and 18th July at the University of the West Indies in Belize where 29 participants from various sectors (Hydrology, Meteorology, Water Distribution, Agriculture, Education, Water Quality Monitoring and National Emergency Preparedness and Non- Governmental Organisations) participated.
The training course was hosted by the Caribbean WaterNet /CapNet UNDP, together with the Business Development Unit, Faculty of Food and Agriculture, University of the West Indies, St Augustine Campus (BDU-FFA-UWI), the Organization of American States and UWI Open Campus Belize.
The workshop kicked off with an opening ceremony that was chaired by Dr. Sharmanye Saunders (Acting Head UWI, Open Campus Belize). Dr Saunders congratulated the participants on receiving OAS scholarships to attend the training course and urge them to take advantage of the opportunity afforded to them. The event was officially opened by the Mr. Starret D Greene (OAS Representative in Belize), who greeted participants on behalf of the Secretary General of the Organization of American States, His Excellency Luis Almagro and the Assistant Secretary General, Ambassador Nestor Mendez. In his opening address Mr. Greene, focused on the OAS's commitment to strengthening relations with CARICOM countries by providing support through a series of developmental initiatives in areas such as education, social development, civil registry and diplomacy.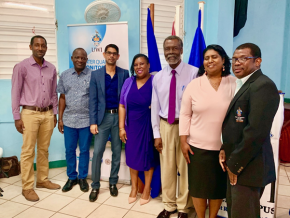 Facilitators and Training collaborators. From Left to right: Dr. Gaius Eudoxie (FFA-UWI), Professor Jacob Opadeyi (Retired professor, Geoinformatics, UWI), Dr. Ronald Roopnarine (UWI/CapNet-UNDP), Dr. Sharmayne Saunders (UWI OC), Mr. Starrette Greene (OAS-Representative), Mrs. Lisa Rocke (UWI, OC) and Mr. Ian Cacho (UWI, OC)
The workshop was facilitated by three specialists, Prof, Jacob Opadeyi and Drs. Ronald Roopnarine and Gaius Eudoxie.
Dr. Roopnarine provided the context for the rest of the training course by presenting the necessary background information related to flood risk management and water quality in the region. Special focus was placed on Belize. Critical issues such as the challenges attached to our geographic location and fragile economies were discussed.
Participants were introduced to the concept of Integrated Water Resource Management framework (IWRM). The proxy indicators/vulnerabilities of SIDS were outlined and further discourse lead to the review, evaluation and interconnectedness of key terminologies relating to sustainable development such as risks, vulnerability, susceptibility, hazards and disasters.
Collaboration and developing partnerships are essential for IWRM to be established, highlighted the trainees. Many important units such as, the Meteorology department, Hydrologists, and other agencies operate in fragmentation and that for SDGs' goals to be achieved, a shared vision must be embraced by all parties.
Three key topics were analysed in the course:
Introduction to SDGs and SDG6
Water quality and pollution
Water quality assessment and monitoring.
In the first module, the importance of the sustainable development goals, and specifically SDG 6 and their different indicators were explained.
Theory and definitions of water quality and pollution was the next topic of focus. It was highlighted that Belize, like most countries in the Caribbean, use water quality standards from organisations like WHO, and does not necessarily adapt these to context (as we realised that characteristics vary due to factors and conditions of a particular area or region).
As for water quality, the types were categorised by three regions, where for the northern and southern areas are believed to rely on well-water sources, while the central area of the country has access to potable water from the treatment of surface water.  The issues affecting pollution and quality were also discussed, and these were found to be: the lack of enforcement of land use policies, lack of monitoring programs, not having the right resource allocation strategy, having inadequate sanitation services, and cultural practices.
Quality control (QC) and Quality Assurance (QA) were discussed during the last training day.  Insight was given as to what QC and QA meant and why it is necessary.  Based on understanding the concepts, Quality Management System (QMS) is inclusive of ensuring there are quality control measures and quality assurance built in; therefore: QC+Qa=QMS.
All in all, as Mr. Greene emphasised at the beginning of the course: the importance of the training course is to use the knowledge gained to promote capacity development in their respective agencies.